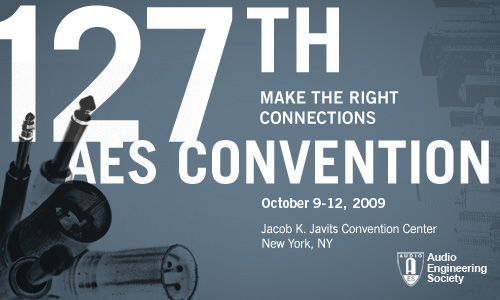 So it's been a while since I've had a chance to post here, but I just got back from a weekend of AES and I need to report on the happenings.
I made it down Thursday night and stayed until the end of the program on Monday: four long days at the convention and a great time catching up with friends both living in New York and visiting for the show.
If you haven't been to an AES convention, they're broken up into two distinct parts: a trade show, with equipment designers and manufacturers showing off their new products, and a technical session, where industry professionals and research can share their recent work.  Usually you can cover the trade show in a day, though this year it took a lot less time.  Through some combination of the economy and industry politics many manufacturers did not attend; I think the most conspicuous absence was Digidesign, since they usually have a huge booth with half hourly product demos.  For me the highlights here included the Shure booth, where I got to check out their new ribbon mics and visit with old colleagues, and the Grace Design booth, where they were showing off their new 500-series preamps.
The technical program was a little quieter than usually, but much more lively than the exhibit floor.  Some of my personal highlights were the Max for Live presentation, the Headphone and Earphone Measurement Tutorial, David Berner's presentation on emulation of analog hardware in DSP, and a number of papers I had a chance to catch.
I'm planning to write a bit about some of the presentations I saw, so stay posted.  Also, hopefully this will be the beginning of a more regular posting schedule.