While I was in London this summer, I saw a massive advertisement for a new Google project, Inside Abbey Road. The sign was suspended above the construction around Old Street Station, and it caught my eye.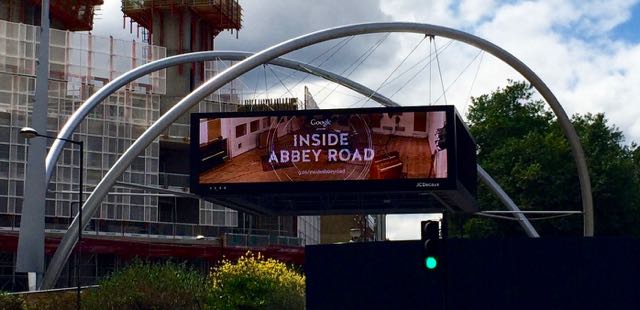 If you're interested in recording, it's worth following the link. I think it's best described as an annotated version of Google Streetview, inside one of the most famous studios in the world. Some of the details are familiar, but some aren't. I hadn't ever heard this anecdote about the Mrs. Mills Piano:
Built at the turn of the century, EMI picked up the piano in 1953 for a pretty reasonable £404 and immediately started to adjust it to their needs. The hammers were lacquered to create a brighter sound, and it was always kept slightly, though deliberately, out of tune. It soon became known as the 'Mrs Mills Piano' after the unlikely superstar Gladys Mills used it create jaunty instrumentals in the pre-rock and roll era.

But it wasn't just Gladys who got to tickle these particular ivories. This Studio Two legend appears on many famous tracks, including some of The Beatles' finest. It's distinctive sound can be heard on Penny Lane, With A Little Help From My Friends, and Lady Madonna, as well as a multitude of others. And it continues to be used today. Proof that the studio is anything but ageist, providing equal opportunity for any piece of equipment, no matter how old it is!