After a bit of a rough patch while driving home from the holidays, I had to navigate my first solo new car buying experience. I wanted to document the pricing data I found, and the steps I took to negotiate a price, and the continued degradation of the Consumer Reports brand.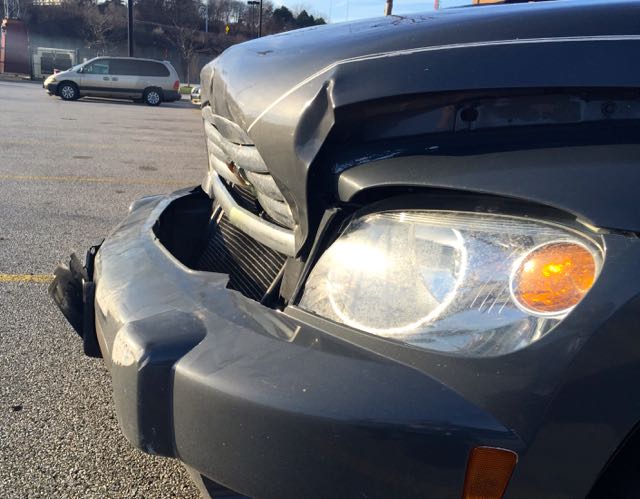 Consumer Reports
First, Consumer Report's Cars Best Deals Plus, though terribly named, is absolutely worth the $13 price for the year. On the other hand, avoid their Build and Buy Car Buying Service at all costs1 - I tried it at 11pm, and woke up with 30+ emails and started getting phone calls from dealers at 8:30am. The biggest problem here is that they're constantly trying to push you into the Build and Buy Service. You need to avoid the blue buttons to keep from becoming a lead, and the blue buttons absolutely do not make it clear where you're being taken: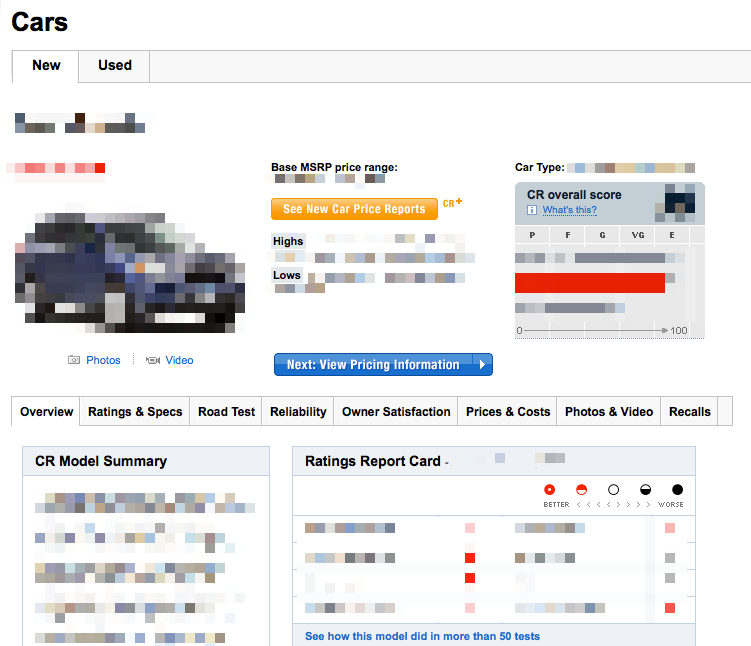 The gold button leads to some tremendously useful data, including the CR Bottom Line Price. This price is invoice minus dealer incentives and holdbacks, so in theory it represents $0 profit to the dealer. You also gain access to some data about the distribution of prices people paid for their cars, and interestingly, some do get lower prices than the CR Bottom Line Price2: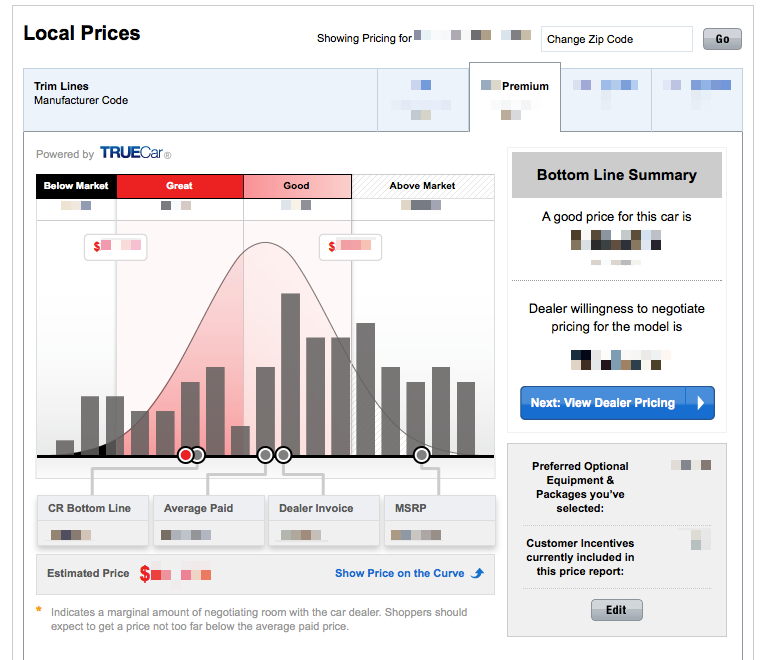 The best part about the Price Report is that you can configure it with the specific options on a car, so if you're negotiating between dealers with slightly different cars, you can adjust your offers accordingly.
How we negotiated
Having the specifc Price Reports was really helpful: I went through the inventory of all of the dealers within 50 miles, found every car that matched our color and trim choice, and then came up with offers that were comparable given the specific options on the vehicles. I called them all first thing one morning, made aggressive offers for specific cars they had on their lots, and worked them against each other for a little while3.
Each dealer also had a different "Doc Fee", which should really just be considered part of the car price. I inquired about that at the top of my call and incorporated their numbers into my offers (they varied from $279 to $398 over the dealers I contacted). We wound up just above the CR Bottom Line Price after the fees (which I don't think are included in the curve shown above).
My only regret was that, in my haste as I was making calls, I overlooked calling back the first dealer we met with, who gave us a test drive. I should have given him another chance to win our business, to at least match the best offer we had, since he had put the most time into us as we shopped.
Bottom line: The CR Price Report was worth the money, but avoid the Build and Buy Service.
---
Despite the slightly improved name. ↩

I've blurred out the useful data here, so I can't believe CR would be ok with me republishing it. Seriously, it's worth the subscription cost to get access to this, if you're about to spend $20,000+ on a car. ↩

It probably didn't hurt that it was the end of the month and the end of the year, so they were willing to move a car without a lot of profit to get their numbers up. ↩